I participated in Ludum Dare 52 this weekend!
I made the game Strange Garden for the jam's 48-hour compo category. It's a puzzle game where you farm crops and feed them to a demon. Different crops only grow under special conditions, so you need to plan out your garden carefully.
This is the fifth game I've submitted for the LD compo, and I think it's my best project for the jam so far- even making it onto Newgrounds' daily picks!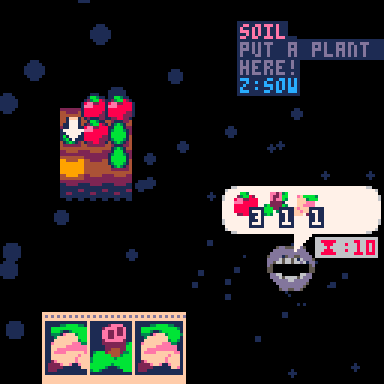 I also made some contributions to my friend Retrisma's game FleshShot Plus- I worked on animation for the main character, enemies, as well as some miscellaneous FX/Collectibles work. It's a shoot-em-up/tower-defense game where you try not to get killed by hordes of geometric shapes.
It's a fun Ludum Dare entry, made all the better by its handsome protagonist. Feel free to check it out:
https://mm2wood-mid.itch.io/fleshshot-plus